INSIDE ASI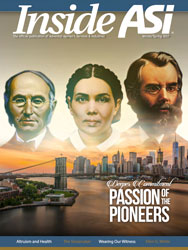 This 32-page, full-color magazine is published twice yearly. It contains member features, devotional columns, project reports and other features designed to inform and inspire ASI members in their personal walk with Christ, as well as in their evangelism and outreach efforts and activities.
Read the Winter/Spring 2017 issue here
To request a subscription, e-mail us here.



ARCHIVE
Winter/Spring 2017
Summer/Fall 2016
Winter/Spring 2016
Summer/Fall 2015
Winter/Spring 2015
Summer/Fall 2014
Winter/Spring 2013-2014
Summer/Fall 2012
Summer 2011
Winter 2011
Summer 2010
Winter 2010
Summer 2009
Winter 2009
Fall 2008
Summer 2008
Spring 2008