QuestLine Productions - Project Report
Questline Productions' ASI Grant Use Report
$225 Discount to ASI Members!
QuestLine Productions (QLP), producer of the new video Bible study series, Thunder in the Holy Land, was one of the grant recipients of the ASI 2013 Convention offering. This funding was earmarked to subsidize ASI members' purchase of the Thunder series, which retails for $325. ASl's subsidy is $100 per set for the first 250 sets sold to ASI members. That, combined with QLP's own ASI member discount of $125, makes a member's total purchase price only $100!

We began offering this special subsidized rate to ASI members during the 2013 ASI Convention in Orlando, Florida, two months before the final product was in stock. To date, we have sold 56 of the committed 250 Thunder sets to ASI members
at the subsidized rate. We believe that if we were given the opportunity to promote this offer in both the ASI magazine as well as during the conventions, many more members would take advantage of this great price.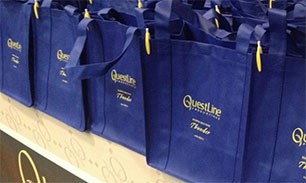 Many purchasers are reporting that they love the Thunder series and are sharing with family, neighbors, and friends. Some have purchased additional sets for witnessing/sharing purposes. We have learned that a total of three baptisms have followed two presentations of Thunder (in separate states), with more people preparing for baptism.
We would like to express our appreciation to ASI-NAD for financially partnering with QLP in encouraging ASI members to get out out their salt shakers and share Christ in their communities.



by Charles A. Byrd, President